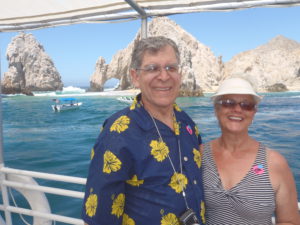 My wife Janet and I took an opportunity to join her sister and our brother in law, Gail and Lane Johnston, on a Panama Canal Cruise.
It was the last cruise of the "season", starting on April 28 from Fort Lauderdale, Florida. Janet and I left the cruise after two weeks at San Diego, California and Gail and Lane continued to the conclusion of the cruise after 20 days in Seattle, Washington, They live in Puyallup, Washington.
The cruise ship was the ms Amsterdam, part of the Holland America Line, a Princess affiliate. The ship was smaller than the Princess ships, so you did have more sense of the motion on the sea. The service, food and accomodations were excellent.
The passengers were mostly active seniors. One-third of them were Canadians, who booked the cruise through the Canadian Cruise Connection. A smaller ship made for a more intimate group, and we think we made some new friends.
Our ports of call included Oranjestad, Aruba; Puntarenas, Costa Rica; Corinto, Nicaragua; Puerto Quetzal, Guatemala; Zihuatanejo, Mexico; Pureto Vallarta, Mexico; and Cabo San Lucas, Mexico. We had many more "at sea" days for this cruise compared to our Mediterranean cruise in 2011. It made for a more relaxing vacation.
The Panama Canal itself is a fascinating modern "Wonder of the World". The 100th anniversary of the Canal will be August 15, 2014. Part of the celebration will be the opening of a new sister Canal now being built next to the current Canal, which will be more modern and accomodate larger ships. A highlight of the cruise was a lecture series by Mike Millwood about how the Panama Canal was built, including this historical and political context. He made what could be a dry subject engaging.
We enjoyed snorkeling in Aruba. Shopping was limited because we arrived there on Labor Day, which is actively observed in Aruba. (Labor Day is observed on May 1 in many countries. Of course, it's in September in the U.S.)
In Costa Rica, we visited a tropical rain forest, including a gondola ride over the tree tops. We were interested to learn that the government of Costa Rica has elected to disband its military in favor of investing in education, health care and preserving its rain forests. (Obviously they are depending on the United States and other friendly nations to defend them.)
In Nicaragua, we visited colonial Leon. The people are very proud of the cathedral in Leon. Nicaragua is still suffering from extreme poverty.
In Guatemala, we visited colonial Antigua. This town has been lovingly restored and preserved, and is obviously the jewel of the country. We visited a jade museum in Antigua and bought some jade jewelry there. Jade deposits used by the Mayans have been rediscovered there. Many people said they would like to spend some time in Antigua in the future. Guatemala had the most welcoming port that reminded me of the Love Boat series.
Zihuatanejo is a fishing village located next to a resort community called Ixtapa. We visited one of the hotels and stopped to view a swamp area loaded with crocodiles, lizards and exotic birds. Ixtapa looks like a great resort if you just want to "veg out". We didn't see many historic points of interest there.
We took a city tour of Puerto Vallarta. We have been there before, so it wasn't an exciting destination for us on this trip. However, the humidity dropped significantly when we arrived in Puerto Vallarta, so it was less tropical and more comfortable.
In Cabo San Lucas, we took a boat ride out by the rocky coast. The rocks are beautiful and the resorts look great, but this is definitely a desert location.
In all of our ports of call, the tour guides emphasized that their locations are safe to visit, and that they really want tourists to come for extended vacations. Meanwhile, even in Cabo San Lucas some concern was expressed about which areas people went to.
These countries all need our help to modernize and overcome poverty.
Janet and I felt this was a memorable vacation that we are glad that we did, and would recommend that others enjoy this experience as we did.